Announcing NetX version 7, available today!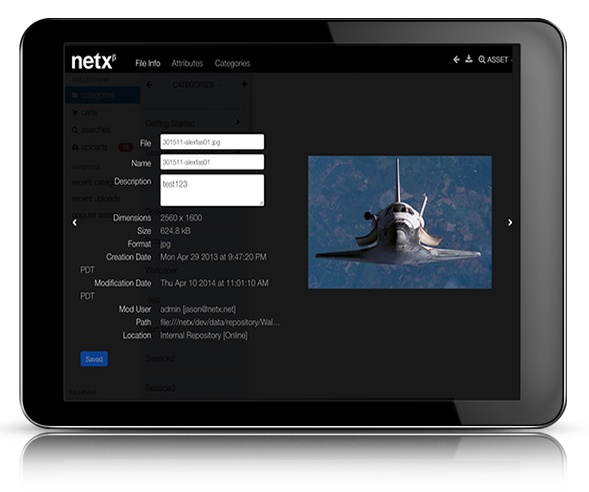 New HTML5 interface
With version 7, NetXposure introduces a public beta of our new HTML5 interface (code-named "X7").
This clean and user-friendly interface provides a completely new experience.



Reponsive
NetX runs on your favorite tablet. The user interface is responsive, meaning it conforms to any device.
Faster import speed
The platform has been significantly optimized for speed. It's not just easier and more intuitive, it's blazing fast.
Telestream Vantage support
We've streamlined workflows for common tasks, reducing steps needed to get the job done.
Tons of new and improved features, including:
API Expansion — we've added JSON/RPC, CMIS, and improved REST services.
Amazon Glacier — now you can archive legacy asset files with a cheap storage option.
Digitization Request Workflow — for archives, we've added a digitization request system.
Dataset Manager — you can manage complex data for PIMs, InDesign layouts and controlled vocabularies.
Tag Metadata — easily tag assets like you do in Facebook.
Categorical Metadata — add metadata templates to your Categories for automated tagging.
Enhanced Language Support — now with the ability to localize content.
New PDF Contact Sheets — an improved PDF contact sheet.
Manual Sorts — sort categories and metadata fields manually.
Easier Downloads — downloads are easier with less zipping.
Bulk Cart Loader — load a cart with a spreadsheet.
Search by Like-Attributes — find link-assets with a search-by-attribute function.
Hierarchical Metadata — add selectable hierarchies to your metadata controls.
Intuitive Preferences — we've completely redesigned the preferences view.
Category Image — add a representational image to your category folders.
On-demand Zoom — a vastly improved zoom function that uses less storage and zooms faster.