NetX is pleased to announce version 8!
Version 8 continues NetX's goal of user adoption through easy to use, intuitive UI components.
NetX 8 is the most efficient UI NetX has released, to date.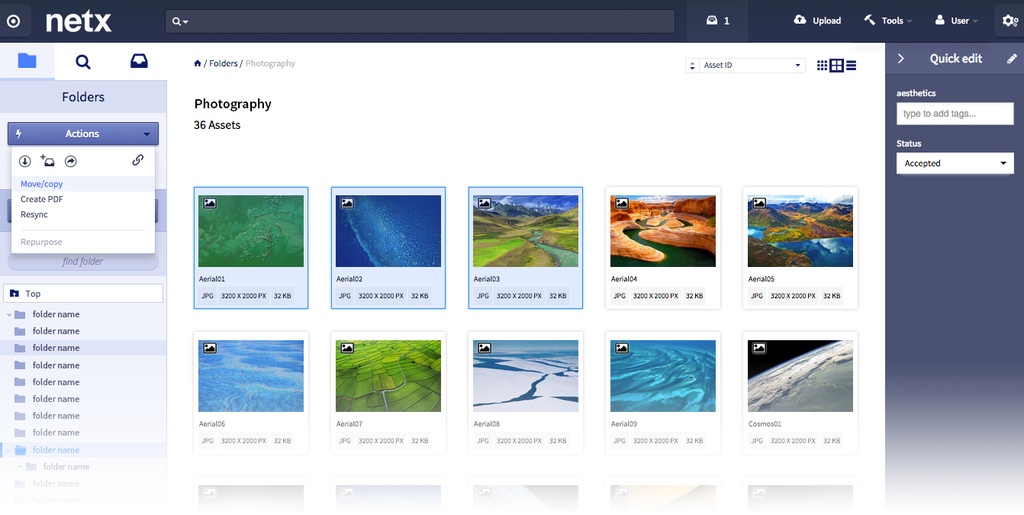 NetX, a leader in the Enterprise Digital Asset Management field, is pleased to announce NetX 8. This version includes a brand new single-page HTML5 UI which integrates over 15 years of features and functionality into one easy-to-use interface. The redesign is clean, modern, and significantly increases efficiency for everyday workflows and tasks.
"We mapped every workflow in the NetX system and calculated how many clicks it took perform any action," said Jason Wehling, President of NetXposure. "We were able to cut the steps in half, and in some cases a third."
The new interface maintains familiarity and context throughout the system, so no matter what workflow the user is performing, the actions menu and layout of the application remain the same. This significantly reduces the time needed to master the application and perform daily tasks.
New to the NetX 8 design is a centralized navigation region which controls all of the functionality in the system. Users can browse, search, collect, manage, and share, all from a single area of the application.
In addition to launching the HTML5 UI, NetX is also introducing its new "X7" platform, the JavaScript framework on which the new UI is built. X7 is a framework which will allow any NetX client to create their own theme for the application, using a combination of HTML, CSS and Javascript. The framework provides a range of customization options, from simple style modifications, to a fully re-imagined application interface.